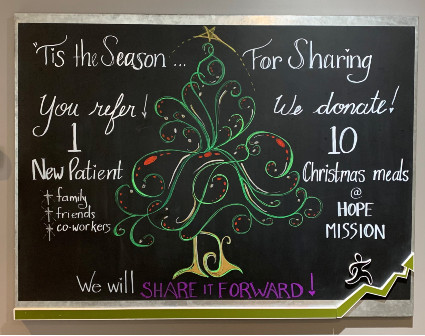 During this festive holiday season, we sometimes forget that not everyone will have a bountiful feast. Some have little to no food at all. As food insecurity is very real in Calgary and throughout Alberta, we want to do our part to help the hungry.
For every patient who refers a patient (a family member, friend or co-worker) into the clinic within the month of December, we will donate 10 nourishing meals through Hope Mission.
This not-for-profit Christian social care agency cares for impoverished and homeless men, women and children in Alberta.
As our practice has been blessed, we want to share it forward by helping those struggling to overcome food insecurity."

Dr. Les Davidson
About Hope Mission
The non-profit provides basic and emergency care to more than 800 people each day, as well as counsel and referral services for men, women, and youth. Every day, Hope Mission provides over 1000 meals and shelter for more than 500 people.
Specialized care and treatment is provided for men and women through faith-based addiction treatment programs. Hope Mission also facilitates an after-school recreation and hot meal program for children, summer camps for inner-city children and youth, and operates a year-round Youth Sports Centre.
Thank you in advance for participating in our referral program. By doing so, you'll help keep stomachs and hearts full!