K-Laser at
Adjusted For Life Chiropractic Health Centre
Adjusted For Life Chiropractic Health Centre believes in the use of various types of care services to ensure well-rounded health. Of the many that therapies that we provide, we proudly offer K-Laser. K-Laser is a Class IV therapeutic laser that is proven to accelerate the healing process by stimulating tissue repair and growth through a system called photobiomodulation.
Why K-Laser?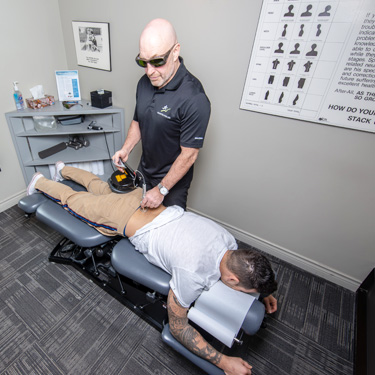 K-Laser is effective in reducing pain associated with many conditions that affect the soft tissues of the body, including:
Repetitive stress injuries
Ligament sprains
Muscle strains
Deep congestion
Neck pain
Rheumatoid arthritis
Osteoarthritis
Diabetic neuropathy
Tendinopathies
Myofascial trigger points
Tennis elbow
Plantar fasciitis
Suitable for the management of both chronic and acute conditions, K-Laser increases circulation by drawing oxygen and nutrients to the target area. This process optimizes the inborn healing capacity of the body, creating a healing environment that is ideal for reducing inflammation, swelling, muscle spasms, stiffness, and pain.
How It Works
K-Laser works by delivering specific red and near-infrared wavelengths of laser light. Four wavelengths are combined to identify the optimal light-absorbing complexes of the body. The infrared light affects the tissues at a cellular level, improving cellular metabolic activity and nutrient transport across the cell membrane, and ultimately, allowing for a greater rate of healing.
Results often take four to six sessions for acute conditions and six to 12 sessions for chronic conditions. Many people, however, feel some degree of pain relief following just one appointment.
How much will it cost?
Because treatment is unique to each person, it is difficult to know until we examine your needs. Rest assured, our pricing is competitive, and we strive to offer affordable rates for all.
Please do not hesitate to contact our practice for further information.
CONTACT US »

K Laser Calgary NW, North West Calgary, Capitol Hill, AB | (403) 284-4743