Back Pain Relief in Calgary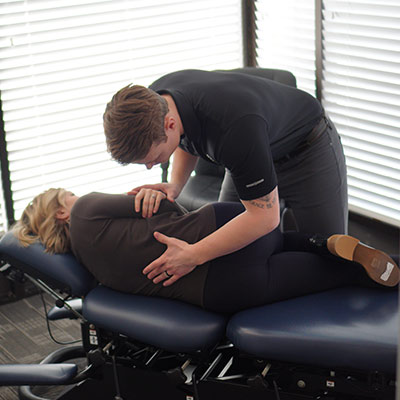 Do you get sharp pain aggravated by movement or a constant gnawing ache? Either way, it can be disabling – interfering with your ability to work,  enjoy recreation, or perform the tasks of daily life. Back pain is complex and worrisome.
Although back pain is associated with numerous conditions, injuries and diseases it is most commonly mechanical in nature. Chiropractors are experts in spinal mechanics and are uniquely positioned with their training to determine the source of pain. Knowing whether joints, muscles, ligaments or nerves are the source helps direct the treatment.
Treatment
The clinicians at Adjusted For Life Chiropractic Health Centre will begin with a thorough history. We want to know the nature of your concern and how it is impacting your daily life. Armed with this information they will decide if they can help you and determine the best course of action. Your recommendations will be specific and tailored to your unique needs as an individual.
At Adjusted For Life Chiropractic Health Centre, in addition to chiropractic adjustments they have the option to incorporate decompression therapy and modalities such as laser therapy and shockwave treatments. Direct current using the Neubie machine is also incorporated to maximize the effectiveness of rehabilitation exercises.
What Our Patients Say:
Always a pleasure to get my adjustments and excellent tips on maintaining.

From the time we started with Les, the better it is and keeps getting better. If old age was not creeping up as fast as it is, we could both do marathons (every 5-6 years ha-ha). Thank you for the help!

Very friendly staff, Dr. Davidson does a great job at explaining everything and listening to my concerns.

I have been a patient of Dr. Les Davidson's for a very long time and have had excellent results getting treatment from him. Everyone is courteous, polite and friendly.

Dr. Provided very thorough examination and helpful treatment!

Thank you for your kindness and your generosity.

Yes! No longer in constant pain like I was when I first came in.

Excellent staff. Highly recommend this clinic!

Great job to all the staff, very helpful and an overall positive environment. I will be recommending to anyone I know!

Sleep, standing, bending, sitting and twisting are all improved after Dr Davidson's care.

Fantastic experience visiting the clinic. Took time to listen to me and did not feel rushed at all. Highly recommend !

Great staff. Very nice and helpful. Dr. Davidson is a very knowledgeable and easy to talk.

Dr Les & the staff are very friendly, welcoming & knowledgeable. I was put very much at easy & everything was explained. I would very highly recommend!

Pain has subsided quicker than past injuries.

Warm atmosphere and staff. Everyone very positive!

I'm happy to have learned how much chiropractic can help!

I am satisfied and the staff was very helpful.

Dr. Davidson and his team are exceptional! Thanks so much for the thorough assessment and treatment.

Great to get help from a chiropractor who is also an athlete as he understands the challenges our body faces.

Dr Les is very knowledgeable and professional. Great help with my daily pain. Would recommend this office for any issues you may have.

Personable team, treatment has been making a difference.

Great care & advice with all the staff. Highly recommend them.

Dr. Davidson gave me the most thorough initial examination I have ever had by a chiropractor – I was very impressed. I also like the fact that he listens to what type of techniques I am comfortable with and adjusts to suit.

Already feeling less pain! :)

Thank you for your excellent service and expertise! You have gotten me back on my feet and I'm so grateful.

Very good staff and doctor is very good and experienced!
Get Started Today
Unsure if you are a candidate for our care? We're more than happy to meet with you for a no-charge consultation. Fill out the form on this page or call our office at (403) 284-4743!

Adjusted For Life Chiropractic Health Centre | (403) 284-4743